1.

remixredux09
fic is done, and holy shit, it's 10,000 words,
and I still think I could have written more
. This is so completely out of character. What do you think, folks? Should I get myself checked out for a Goa'uld or what?
I have to say, I've been working on this Big Bang fic for weeks, but this is the first time I think I can actually pull it off.
2.
Still have not seen
Children of Earth
or
Half-Blood Prince
. Erk. Next time, when a workaholic parent says they want to see things with me - and thus make me wait for them to clear out their schedule, because I promised I'd see it with them
first
- I should, as Nancy Reagan said, just say no.
3.
Femslash Big Bang (

thelittlebang
) art is done! I created art for

ryf
's
Repression
. I know it was supposed to be an epic struggle against all the things that Sam and Vala kept hidden, pushed down, but reading it, what struck me the most was the sheer, simple
caring
they showed for each other (well, that, and the red alien sunflowers). In short, it felt not so much an adventure as a sweet, slightly-daring love story with a slightly disconnected, psychedelic feel. For the cover, I took my cues from Art Nouveau and some of the hippy concert posters floating from the seventies: slightly unearthly, flowing lines and warm colors. Stripped down to skin, which - depending on which way you see it - could be their "essential selves" or the blank slates that their symbiotes viewed them as. (Never let it be said that I don't add a little of the tragic to pretty much everything I do!) The red flower is one of the alien sunflowers from the planet where the incident happened; I don't know why, but they really stuck in my mind, perhaps because I find the idea of red sunflowers a lot more appealing than yellow ones.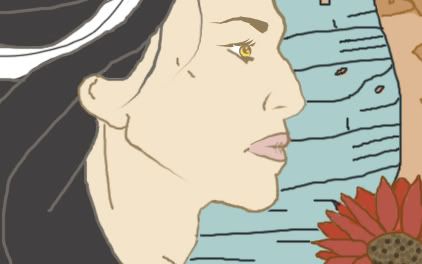 ( Read more... )