Another fanmix that secretly dreams of being a fic when it grows up, this time focusing on everybody's favorite angel. (Unless, of course, you're in
Good Omens
, in which case this mix features your
second
-favorite angel. Though if you're into
GO
, why are you skulking around here?) Castiel: the beginning, the middle - the beings who have pushed, changed, challenged, hurt, and loved him - and the now. The relationships explored can be construed as romantic or sexual pairings - Dean/Castiel and angel incest, as it were - or entirely gen, or a mixture of the two. I tend to view it as romantic love/influence from Dean and familial from the angels, but see it as you will; I have no part in it beyond the making.
As for the covers: I was experimenting with non-traditionally-shaped fanmix covers, finished the first version, and then realized it was
way
too big to post to any communities. So tonight, you have two covers for your viewing pleasure. Enjoy!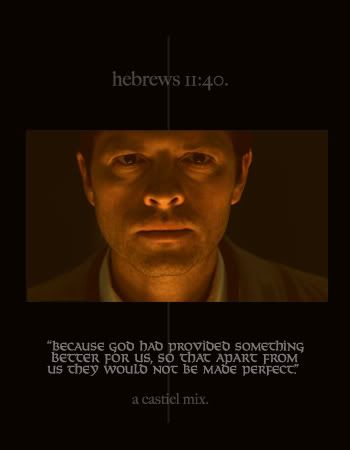 ( No ground is ever going to hold me. )